Essentially, CBD is a product that's extracted from the hemp plant, and the 'CBD' part is an abbreviation of CannaBiDiol – which is a naturally occurring element within the plant. It is considered a food supplement in the UK.
As a result of the recreational use of marijuana, CBD was previously viewed by some as something to avoid. However, because all but a minute amount of the THC (Tetrahydrocannabinol – the bit that gets you 'high') is removed during the extraction process – it's not a fair comparison to make.
Our CBD Oil is made from organically grown hemp plants. After harvesting the CBD cannabinoids are able to be removed safely from the plant and then are used in the various products. Once extracted, they are then infused into a carrier such as MCT oil ( coconut oil ), hemp oil, olive oil, or a flavoured MCT oil to make it pleasant to the pallet and easy to ingest into the body.
The quality of the premium CBD oil we supply is assured thanks to the gentle, yet effective extraction process that's used during the manufacturing process. This is why our growers only use CO2 extraction to ensure the most potent product possible.
CBD based products should only be made from the best CBD Oil. Our CBD is rich in active cannabidiol and other beneficial cannabinoids, terpenes and fatty acids, ensuring that our cbd products contain the full natural organic goodness of the cannabis plant.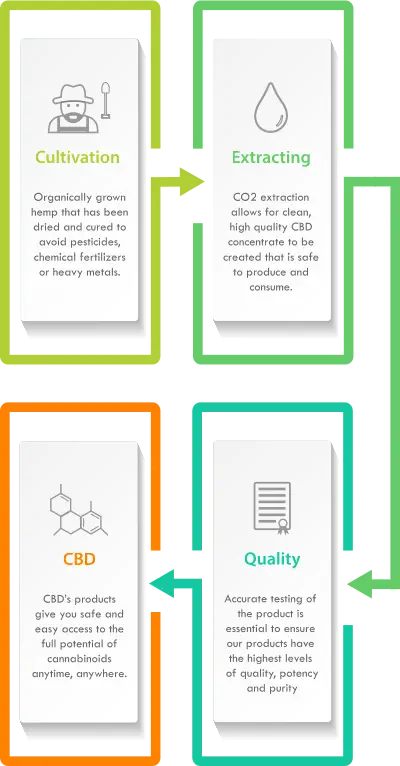 There are three different types of CBD available, as follows:
Full spectrum CBD
When you buy full-spectrum CBD oil, you get a product that contains small amounts of every single element found in the cannabis plant. This also means that it may contain trace amounts of tetrahydrocannabinol (a.ka. THC) – the compound that produces the 'high' associated with smoking cannabis.
What these compounds include are various different types of CBD, as well as the terpenes that give different strains of the cannabis plant their distinct aromas. An important consideration that users of full spectrum CBD products take into account is that this THC might show up in a drugs test – despite the product itself being legal in the UK.
UK law dictates that full spectrum CBD oil must have no more than 0.3% THC inside and whilst there are products on the market that contain higher levels, they're only legal in countries where cannabis use is legal. One of the benefits of full spectrum products is that they harness the power of the entourage effect, which is said to enhance the support that CBD offers.
Broad Spectrum CBD
The difference between broad spectrum and full spectrum CBD products is that broad spectrum only contains some of the components that exist naturally in the plant. However, one notable exception is THC, which is something that doesn't exist in broad spectrum CBD. What this means is that if you were asked to take a drugs test at work, it would 100% not show up.
As we just mentioned, broad spectrum CBD contains many different elements from the hemp plant, which often includes various different types of cannabidiol (CBD). This means that when you use it, you get to enjoy the entourage effect, which users around the world have reported to enhance the health support that CBD provides to users.
Anyone thinking of buying CBD oil should see this particular type of product as a nice compromise between full spectrum and isolate CBD options, as it offers the entourage effect without having to worry too much about what you're taking something containing THC.
CBD Isolates
Isolate products represent the purest type of CBD and they're created when all but one variety of cannabinoid is removed, along with all terpenes. The extraction process is when this isolation takes place and what's left over is one pure type of CBD, which some prefer because a) it doesn't have any kind of aroma or smell and b) it allows more precise control of the health support that's provided.
The truth is that some people don't like the taste of certain terpenes, but this isn't a problem when taking CBD isolate products – it's why they're so widely used in CBD edible products. Another reason – that's perhaps not as well-known as it should be – is that some people are actually allergic to terpenes.
In fact, around 6% of UK residents are allergic to a terpene known as linalool and a further 5% that have a reaction to another called limonene. The symptoms of this allergy are similar to hay fever with sneezing, runny nose, nausea, dry cough and congestion amongst the most common.
Athletes put their bodies through a lot and regularly push themselves to the limit. Whether you are a professional athlete…
Introducing the newest addition to Thurlaston Garden Centre in Leicester: our NaturallyCBD in-store shop. Our display offers a wide range of…
Earthy, bitter, and a little bit pungent. That's how many first timers describe the taste of cbd oil. For those…
Where to buy CBD Oil Online?
The best place to buy CBD sprays online is from our website. We have a variety of different brands and strengths of CBD oil for sale, as well as other products that are made with cbd extract, like topical balms. On our website, you will find more information about what types of products we carry. You can also contact us anytime if you have any questions or would like to order in bulk!
We can offer you a huge range of premium CBD products including:
Flavoured CBD Oils, CBD gummies and CBD Capsules
Creams, CBD balms and skin care.
Relaxing and soothing cbd bath bombs
Hair care products
It's easy to buy our cbd products! Simply visit browse our online cbd shop.